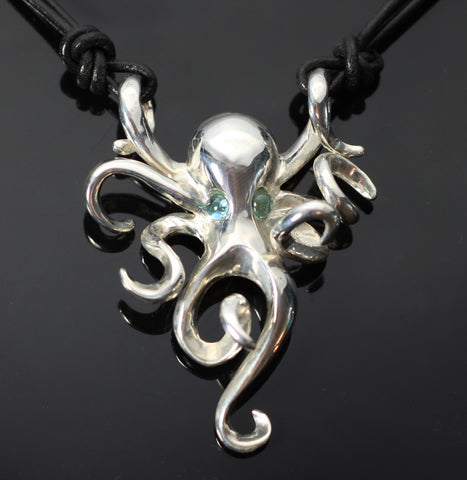 Octopus Necklace Jewelry
Non-tarnish sterling silver Octopus (approx. 2.5" x 2") with blue topaz cabochon eyes and tied on double black leather with a silver hook & eye clasp.
Bored from the standard regular jewelry? Looking for something unique? Want something new and different that gives your look a different spark? Then you are in the right place.

We'll tell you everything about the new and unique Octopus Necklace Jewelry that absolutely looks stunning and will surely go with almost every outfit and the best part about it that you can wear it almost every day as casual jewelry but can still manage to look awesome.

Find the all-new stunning Octopus Necklace and much more unique jewelry for everyday use only on Anisa Jewelry.

WHAT IS OCTOPUS NECKLACE JEWELRY?

You might be wondering about what is the all-new octopus necklace jewelry is and what does it looks like, right? Well, you are correct because this jewelry is something that can easily attract anyone by its looks. Octopus necklace jewelry is a metal octopus attached to a chain that looks stunning and attracts people easily towards it.

Octopus necklace jewelry is a combo of casual and formal. You can wear this jewelry every day and also on the party occasions because it just gives your look unique and different kind of spark that you are looking for.
Octopus Necklace Jewelry also spreads awareness about marine life or you can say the sea life. Who does not loves water or beaches these days? Yes, you are right everyone does love the beaches and water. This jewelry can be the perfect combo of your outfit when it comes to the beach parties. The all-new octopus necklace jewelry admires the creatures that live in the water by its unique octopus symbol.

People who love fishing will surely love this because they have a different kind of animal love and as it also relates to their hobby. The look of this beautiful and unique necklace will surely remind you of how blessed you are because nature has given us so much.

WHERE TO GET THE QUALITY OCTOPUS NECKLACE?
You might be wondering all the time while going through the above read that where to get this beautiful and unique piece of jewelry, right? Well, we the Anisa Jewelry are here to help you and get the best quality Octopus Necklace Jewelry.

We make the best octopus necklace jewelry as compared to others. We make sure that our jewelry does not get the color fading problem or does not get black quickly.

Our jewelry worth your money because our products are 10 out of 10 when it comes to quality. We also make the best handmade jewelry for the people who like to wear more detailed and beautiful pieces of jewelry.

We make sure that our products are not overpriced because that is what most of the companies are doing nowadays. We deliver the best to our customers at very affordable prices. Customer satisfaction is our priority and to maintain it we check each of our products before delivering it to our customers.

Visit our website http://anisajewelers.com/ now and order your favorite jewelry at the most reasonable prices now.

Product Collection/s:
Octopus Collection
---
We Also Recommend